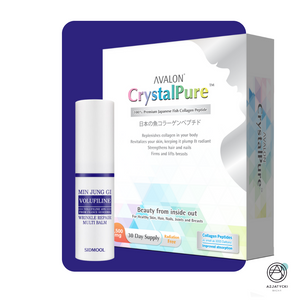 As we age, the anti-wrinkle "pillow" on our face begins to diminish. The number of fat cells decreases, undergoes redistribution, and as a result, gravity causes the tissues to sag.

To address this problem, we propose a set of two products:

Avalon CrystalPure Collagen: By raising the level of Prolyl-Hydroxyproline dipeptide in the bloodstream, this collagen stimulates increased collagen production in the skin, helping to restore its firmness and elasticity.
Sidmool Volufiline Filler Balm in a stick: Gently motivating our own subcutaneous fat cells to increase their volume, this plumping stick by Sidmool is ideal for application on the lips as well. It helps enhance the fullness and volume of the skin, providing a youthful and plump appearance.
Volufiline Plus set offers a solution for addressing the loss of facial volume and sagging due to aging. The Avalon CrystalPure Collagen promotes collagen production, while the Sidmool Filler Balm gently encourages the increase in volume of subcutaneous fat cells. Together, these products help restore and enhance the firmness, elasticity, and youthful appearance of your skin.
Shipping from Singapore by post, delivery time approx. 2-8 weeks.

The price of the product includes VAT within EU.
We ship world-wide and shipping is always free.