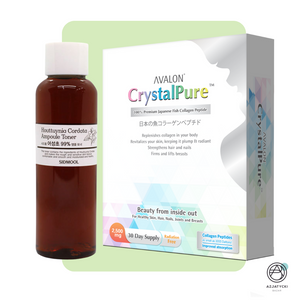 In discussions about aging, the topic of blood vessels is often overlooked, despite their crucial role in maintaining healthy and vibrant skin. Blood vessel walls are composed of 70% collagen, which, like skin collagen, is susceptible to degradation over time.
To address this issue, we present a set of two products:
CrystalPure Hydrolyzed Collagen from Avalon: This low-molecular-weight collagen is absorbed into the bloodstream as Prolyl-Hydroxyproline dipeptide. It stimulates fibroblasts to enhance collagen production, strengthening not only the skin but also the blood vessels throughout the body.

Face Toner with Houttuynia Cordata: This toner enriched with houttuynia cordata extract promotes the integrity of blood vessels in the skin, improving their tightness and resilience.
By combining the power of Avalon Collagen and the nourishing properties of the Face Toner, this set offers a comprehensive solution to reinforce and support healthy blood vessels.
Shipping from Singapore by post, delivery time approx. 2-8 weeks.
The price of the product includes VAT within EU.
We ship world-wide and shipping is always free.