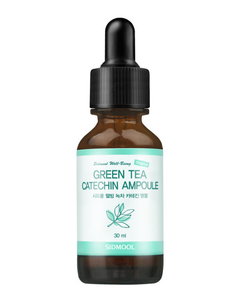 Green tea is the holly grail of anti-aging cosmetic ingredients. Thanks to its antioxidant properties, it lowers the activity of collagen-cutting MMP enzyme, soothes inflammation, regulates sebum secretion, has antibacterial properties and has a positive effect on blood vessels.

This Sidmool serum contains 66% green tea leaves water enriched with hyaluronic acid, beta-glucans and skin-protecting allantoin. The serum is relatively full-bodied, but absorbs well after a while and leaves no greasy film.

The product is perfect for young skin and mature skin dealing with enlarged pores, redness and dehydration.

The bottle with a pipette contains 30 ml of the product, which should be used within 6 months from opening.
Shipping from Singapore by post, delivery time approx. 2-8 weeks.
The price of the product includes VAT within EU.
We ship world-wide and shipping is always free.