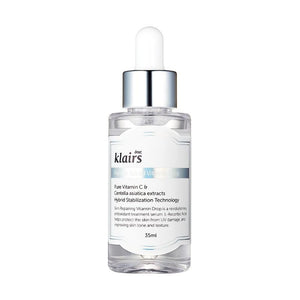 Have you ever experienced your vitamin C serum turning into orange goop before you could use it up? Or did it clump up on your skin, causing irritation and flakiness? Unfortunately, these problems are all too common for vitamin C products.
Vitamin C is a very unstable and tricky ingredient in cosmetics, despite its great benefits for the skin. And this ingredient is not just an antioxidant! It also stimulates collagen production and natural skin cell turnover, making it an ideal cosmetic ingredient for all skin types and ages.

However, the challenges of finding a stable and effective vitamin C product can be discouraging. That's why it's worth knowing about Dear, Klairs vitamin C serum!
The makers of Dear, Klairs serum have chosen to use a stable form of L-ascorbic acid in their serum that activates upon application to the skin. This makes the serum resistant to destabilization, and there's no need to refrigerate the serum or protect it from light. At the same time, it helps to gently brighten and firm the skin without causing irritation or flaking.
The serum is perfect for use both day and night. We recommend it to anyone looking to help their skin achieve a natural radiance, firmness, and clarity.
The bottle contains 35 ml of the product.
Shipping from Singapore by post, delivery time approx. 2-8 weeks.
The price of the product includes VAT within EU.
We ship world-wide and shipping is always free.