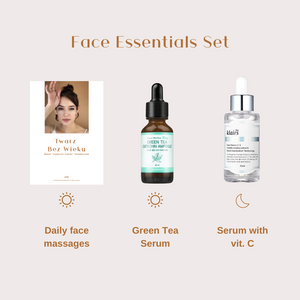 The set offered below is universal, designed for anyone who notices "something" happening on their face but isn't quite sure what it is. It could be a subtly emerging asymmetry, a tired-looking face with puffy eyes, loss of smoothness and radiance in the skin, or even the appearance of fine lines and wrinkles.
If you're looking for something more intensive, I invite you to try our Advanced Renewal Set.
This set includes:
Green Tea Serum, Sidmool
Freshly Juiced Vitamin Drop with vit. C, Dear Klairs
Our Ebook "Ageless Concept"
Why this set?
Green tea effectively slows down the aging process by modulating MMP activity.
Vitamin C stimulates the production of new collagen and epidermal layers.
Facial massages from the Ebook "Ageless Concept" will help to elongate and make muscles more elastic.
Additionally recommended supplements:
While it may be tempting to immediately recommend hydrolyzed collagen, I suggest starting with cheaper, multifunctional supplements that can work wonders not just for the skin but overall health. For those looking to strengthen the skin, a cup of lemon balm tea works wonders! It strengthens blood vessel walls, provides antioxidants, and aids in better sleep, which is when the skin regenerates best. Lemon balm tea is not included in this set.
Daily Face Massages:
I highly recommend introducing facial massages from the "Ageless Concept" Ebook, which is included in this set. If you're unsure where to start, I recommend the 9-step routine on pages 35-36.
Additionally, you can also take advantage of our Face LIFT Massage mega-workout available on our YouTube channel.
PROGRAM DETAILS
Morning:
If possible, I highly recommend performing the massage before your morning skincare routine. In the morning, the muscles are relatively relaxed, making it easier to feel with your fingers where there are permanently tense and hardened segments. The massage I propose does not require any slippery substances (in fact, they would hinder precise movements!) but it does require thoroughly cleansing the face after completing all the movements to avoid potential acne and inflammatory issues. After the massage, I recommend thoroughly cleansing the face. Apply the green tea serum when applying the serum phase, and gently pat in the cream once it has absorbed. Of course, finish with a generous layer of SPF.
"9-Step Program" massage from the "Ageless Concept" Ebook + Face LIFT Massage mega-workout from YouTube

Thoroughly cleanse the face

Apply Green Tea Serum

Apply your favourite cream and SPF
Evening:
After cleansing the face in the evening, I recommend applying the Freshly Juiced Vitamin Drop with vit. C and continuing with your typical skincare routine.
Thoroughly cleanse the face
Apply Freshly Juiced Vitamin Drop with vit. C

Drink Lemon Balm tea
Shipping from Singapore by post, delivery time approx. 2-8 weeks.
The price of the product includes VAT within EU.
We ship world-wide and shipping is always free.