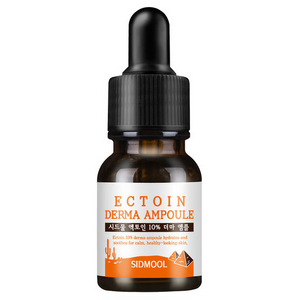 Ectoine is a natural substance that protects cells against harmful factors, such as high temperature and UV rays. Ectoine reduces skin redness, improves smoothness and helps to reduce wrinkles.
The Ectoine Serum is ideal for the beginning of the day to protect the skin from water loss, strengthen the hydro-lipid barrier and mitigate the reaction to UV rays. This light serum will perfectly harmonize with the other steps of skincare.
Recommended especially for sensitive skin prone to dryness. It is also perfect for travel and as an additional layer of protection against the sun.
The bottle contains 12 ml of the product and 10% of ectoine (the maximum allowable concentration). Made in Korea by the Sidmool brand. The manufacturer declares the product as not tested on animals.
Shipping from Singapore by post, delivery time approx. 2-8 weeks.
The price of the product includes VAT within EU.
We ship world-wide and shipping is always free.