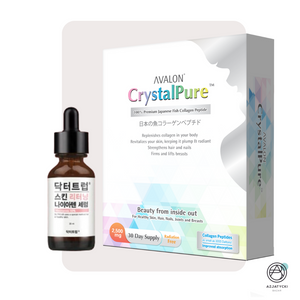 This set is for anyone who desires to restore clarity to their skin.
Avalon CrystalPure Collagen is absorbed into the bloodstream as Prolyl-Hydroxyproline dipeptide, which stimulates fibroblasts to increase collagen production.
Sidmool Niacin Serum is a powerful blend of bamboo water, arbutin, and niacinamide. It restores crystal-clear clarity and natural softness to the skin. The serum is exceptionally lightweight and quickly absorbed.
Clear Skin Set combines the benefits of Avalon Hydrolyzed Collagen and Niacin Serum to enhance collagen production, restore clarity, and promote natural softness to the skin. This set is suitable for anyone seeking to achieve clear and radiant skin.
Shipping from Singapore by post, delivery time approx. 2-8 weeks.

The price of the product includes VAT within EU.
We ship world-wide and shipping is always free.