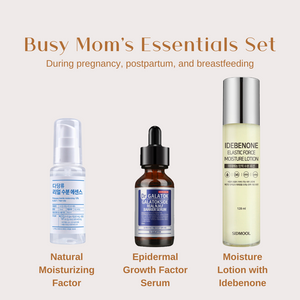 Facial care during pregnancy, postpartum, and breastfeeding is a significant challenge! When there is no time to read labels and analyze whether a cosmetic product is safe to use during this critical time, and when there is no energy for complicated treatments and routines, we recommend the Busy Mom's Essentials Set, which takes care of a busy mom's skin in 3 easy steps.
This set includes:
Natural Moisturizing Factor, Sidmool
Epidermal Growth Factor Serum: regenerating, Sidmool
Moisture Lotion with Idebenone, Sidmool
Why this set?
Natural Moisturizing Factor not only moisturizes the skin but also deeply hydrates it.
Epidermal Growth Factor Serum provides a dose of peptides that gently promote skin regeneration, along with a Galactomyces bacteria filtrate that supports the skin's barrier function.
Idebenone offers a powerful dose of antioxidants that help protect the skin from environmental stress and reduce excessive pigmentation.
The cosmetics can be used together, both in the morning and evening. However, on days when there's only enough energy and time for one step, the Moisture Lotion with Idebenone will take care of the face.
Sidmool, the manufacturer of these cosmetics, declares them all safe to use during pregnancy, postpartum, and breastfeeding.
Why don't we recommend hydrolyzed collagen during pregnancy?

Currently, there is a lack of studies confirming the safety of consuming supplements with hydrolyzed collagen during pregnancy, postpartum, and breastfeeding. Many doctors who claim that hydrolyzed collagen is just a regular protein supplement have not familiarized themselves with scientific literature indicating that hydrolyzed collagen is absorbed into the bloodstream in the form of a unique Pro-Hyp dipeptide, which artificially signals the body that the skin is damaged and immediate collagen production is required.
For a tired and burdened body, this is an effort that is better postponed to another time.
Shipping from Singapore by post, delivery time approx. 2-8 weeks.
The price of the product includes VAT within EU.
We ship world-wide and shipping is always free.