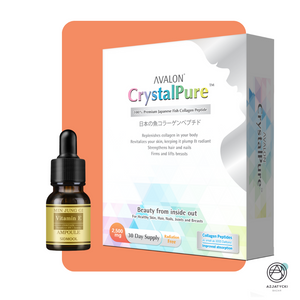 Vitamin E is an underrated cosmetic ingredient, perhaps because its true power is revealed when it is delivered in a highly concentrated form and oily base. If you wake up in the morning with the feeling that your skin is dry and lifeless, we recommend giving Sidmool oil a chance.
To address this issue, we propose a set of two products:
Avalon CrystalPure Collagen: By raising the level of Prolyl-Hydroxyproline dipeptide in the bloodstream, this collagen helps stimulate increased collagen production in the skin, improving its elasticity and firmness.

Vitamin E oil: This oil revitalizes, moisturizes, and smoothes the skin, providing essential nourishment and restoring its vitality.
This set offers a comprehensive solution for anyone seeking to quickly and naturally restore their skin's elasticity and firmness. The Avalon CrystalPure Collagen enhances collagen production, while the Vitamin E oil revitalizes and moisturizes the skin, leaving it smooth and radiant. Together, these products provide a powerful combination for rejuvenating and nourishing your skin.
Shipping from Singapore by post, delivery time approx. 2-8 weeks.

The price of the product includes VAT within EU.
We ship world-wide and shipping is always free.