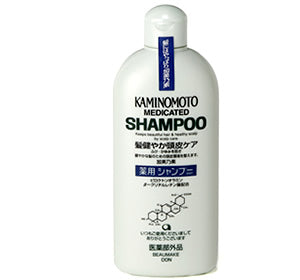 In Japan it is believed that the basis of hair care is taking care of the scalp and its blood supply. A well-groomed scalp without dandruff, inflammation and excessive oily skin, creates an ideal environment for beautiful hair. Many products on the market use herbal extracts known to improve blood circulation so that the hair roots receive the greatest amount of nutrients.
The Kaminomoto shampoo cleans the scalp efficiently, does not dry the hair, and has a refreshing scent. It's enriched with ingredients that promote hair growth and scalp health.
The bottle contains 300 ml of the product. There is no label in English as the description on the bottle is in Japanese.

Shipping from Singapore by post, delivery time approx. 2-8 weeks.
The price of the product includes VAT within EU.
We ship world-wide and shipping is always free.