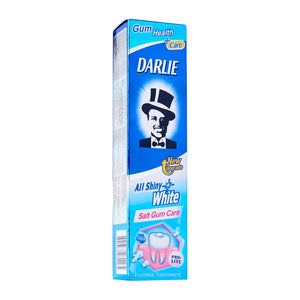 A few years ago, after moving to Singapore, I started using Darlie toothpaste - very popular on the local market. The paste has a long history (the brand dates back to 1933) and is produced in Hong Kong. I can't explain exactly what it is, but this toothpaste is simply DIFFERENT to any toothpaste I have used in Europe.
Darlie cleans the teeth intensively and has a slightly spicier taste than a typical toothpaste. However, it is worth bearing these inconveniences, because by using Darlie regularly you can achieve whiter teeth. The manufacturer recommends waiting for the effects for about 14 days, but in my opinion, you can see the difference after just a few days.
Darlie is available with sea salt (140 grams). It cleans teeth really well, and "pulls" the yellow colour from them.
If in doubt as to whether the product is right for you, consult your dentist.
Shipping from Singapore by post, delivery time approx. 2-8 weeks.
The price of the product includes VAT within EU.
We ship world-wide and shipping is always free.